Don't look now, but the Red Sox might be starting the ace of their staff in Game 1 after all.
No, Josh Beckett's oblique hasn't miraculously healed itself in time for the right-hander to take his turn in Anaheim on Wednesday night. No, Daisuke Matsuzaka and his 18-3 record aren't going to move up in the rotation. No, Curt Schilling hasn't talked his way onto the postseason roster.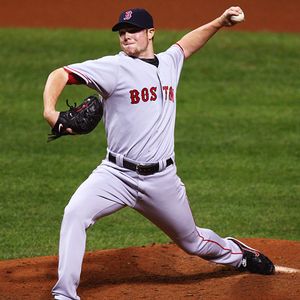 Jon Lester, at this point in the season and his career, might be the Red Sox's ace.
OK, OK. Hold on. Let's look at this. The left-hander was just named the American League Pitcher of the Month for September after going 4-1 with a 2.14 ERA; he won the same honor in July after going 3-0 with a 2.05 ERA. Only Cleveland's Cliff Lee twice won American League Pitcher of the Month this season, and Lee is going to win the Cy Young Award going away.
Lester pitched pretty well in May (2-1, 2.97) and June (3-0, 3.03), too. And while no-hitters can be fluky, his no-no certainly has to be another point in his favor.
Since his stinker at Toronto on Aug. 23, he's 4-1 with a 2.01 ERA and a .218 opponents' batting average. Before that stinker, he'd gone 6-1 with a 2.59 ERA in his previous eight starts.
For the season, the left-hander struck out 152 and walked 66; his ratio was better than that of contemporary Felix Hernandez (175 to 80) and similar to that of Scott Kazmir (166 to 70).
And the quality start, while not a perfect stat, is certainly a good measure of the consistency a team needs out of its ace. You don't have to throw eight shutout innings every time out; you just have to put your team in position to win every time out. A No. 3 or No. 4 starter lays more than an occasional egg. It happens.
An ace, though, comes through just about every single time. And a look at the number of quality starts delivered by Red Sox pitchers this season might surprise you:
* Matsuzaka: 14 (48 percent of starts)
* Beckett: 16 (59 percent of starts)
* Tim Wakefield: 18 (60 percent of starts)
* Lester: 20 (61 percent)
Those 20 quality starts rank Lester 10th in the American League; Chicago's Mark Buehrle leads with 24,while Lee, Roy Halladay (Toronto) and Zack Greinke (Kansas City) are tied for second with 23. All four qualify as aces. Ervin Santana (Angels) had 22 and is an emerging ace; Mike Mussina (Yankees) had 21 and clearly was the best his team had this season.
His second American League Pitcher of the Month nod means you have to think seriously about where he stands in the discussion for the league's Cy Young Award. Lee should win unanimously after going 22-3 for a lousy Indians team, and Roy Halladay won 20 games with a 2.78 ERA for the Blue Jays. Beyond that, though, who would you take over Lester? Other than those two, only Dice-K and Justin Duchscherer had a better ERA among starting pitchers with a minimum of 140 innings, and Duchscherer hasn't pitched since Aug. 21.
Lester might have had the third-best season of any pitcher in the American League. Who'd have thought?
A year ago, at 23, Lester pitched the final game of the World Series because he had to wait until Game 4 for his turn to roll around.
This year, at 24, Lester might just be the staff's ace.